Dental Cleanings and Checkups Near You
When it comes to maintaining your oral health, getting regular dental cleanings and checkups should be at the top of your priority list. While maintaining a good oral hygiene routine of daily brushing and flossing helps reduce the number of harmful bacteria in your mouth, it cannot eliminate it. This is why it is vital that you attend professional dental cleanings at least once every six months. At Maple Ridge Family Dental, we understand the importance of preventative dentistry in preventing tooth decay and cavities. We offer professional dental cleanings and checkups in London, ON.
Why Are Dental Cleanings and Checkups Necessary?
When you eat and drink, your teeth become coated with harmful bacteria, also known as plaque. When plaque hardens into tartar, it can eat away at your tooth enamel, making you susceptible to cavities and tooth decay. When you come into Maple Ridge Family Dental for a dental cleaning, our dental hygienist will be able to address the plaque and tartar in all the areas of your mouth using a special tool called a scaler.
Attending dental cleanings and checkups also provides your dentist with the chance to screen you for any abnormalities such as oral cancer, flag any other oral health issues, and create appropriate treatment plans. Please contact us if you would like to learn more about receiving dental cleanings and checkups near you.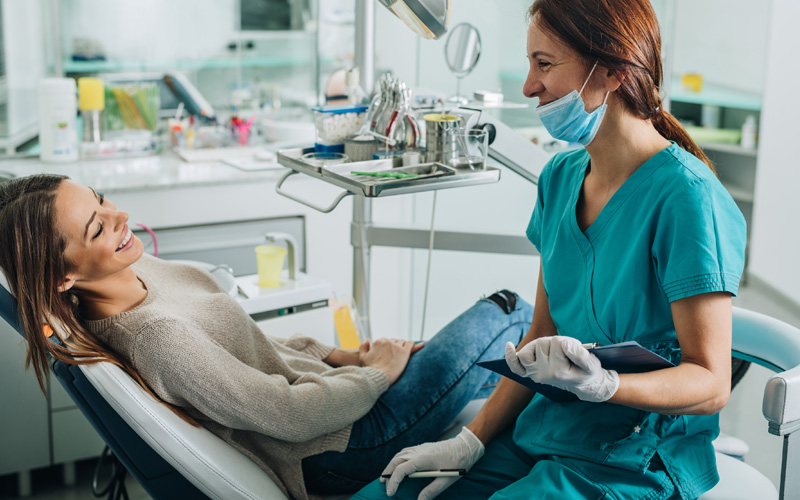 What Are the Advantages of Dental Checkups?
Dental cleanings work as a form of preventative dentistry, stopping bacteria before they can cause harm or damage to your oral health. To maintain a healthy mouth, you should attend dental checkups at least twice a year. Some of the main advantages to attending dental cleanings include:
Early detection of oral health issues
Minimizing the risk of severe health issues
A healthier-looking smile
Prevention of gum disease
Looking for Dental Cleanings and Checkups Near You?
Looking after your oral health is important to your overall wellbeing and confidence. The best way to ensure optimal oral health is to visit Maple Ridge Family Dental for bi-annual dental cleanings and checkups in London, ON. Please contact our clinic today to book an appointment for a professional dental cleaning near you.